HOW TO PRINT ON GLASS:
Printing on glass can enhance the uses and value of glass, expanding the possibilities for surface designs that are both beautiful and functional, and for a wide range of applications; industrial, commercial, automotive, interior design, and architectural. Glass is a traditional material that has become a contemporary medium for decorative purposes. Someone wondering about how do you print on glass will discover that there are various options and techniques to choose from.
Advanced technologies for printing on glass offer not only the promise of design potential, but also serve to enhance flexibility, durability, and sustainability for exterior as well as interior surfaces. The Three main approaches to printing on glass are screen printing, digital ceramic glass printing and UV flatbed printing. All methods offer excellent results and benefits, with different degrees of versatility and cost, using different techniques, types of equipment, and inks. The best option is digital UV printing, which offers the advantages of digital printing, but typically cannot match the high durability provided by screen printing or digital ceramic printing.
Main printing options
Screen printing on glass
The screen printing method is actually a traditional technique that has been used successfully for many decades. Screen printing is suitable for both interior and exterior surfaces, and is highly durable. This method uses a stencil and a mesh screen to create the design. Ink is spread across the screen with a squeegee; while the stencil blocks certain areas of glass, leaving others open to let the ink through. The result is a high-quality image, pattern, or design element. The ink is then "fired" to adhere to the glass. Screen printing on glass is limited to a maximum of four colors. Each color requires a long setup and preparation time, and high fixed costs. Screen printing is ideal for high-volume glass printing production in commercial, industrial, and architectural applications.
Digital printing on glass
The flexibility of digital printing on glass opens a new world of options, and compelling advantages for glass processors, architects, and designers.
There are two methods for digital printing on glass: UV-curable printing, and digital ceramic printing.
• Digital ceramic printing on glass takes a different approach to that of digital UV. With digital ceramic printing, the inks contain ceramic frit (basically Nano-particles of glass mixed with colored pigments) and are fused into the glass after printing, so that the inks become an integral part of the printed glass. In comparison, digital UV inks are not fused into the glass; rather they are laid down on top of the glass and then cured, creating an ultra-thin printed layer over the glass surface.
• Digital UV printing technology uses organic inks and employs ultraviolet light to cure (dry) the ink on the glass surface. The technology enables unlimited color combinations. Digital UV printing is a fast and economical method for printing high-quality.UV printing gives our customers the opportunity to supply high resolution images to be reverse printed directly to the rear face of the glass, with use of a UV cured ink printer. This means the ink is cured within seconds of being applied to the glass, and is ready for further processing.Printed glass may also be back painted, to offer further depth and vibrancy to the image. We can also encapsulate an image between two pieces of glass using our EVA laminating kiln.
At prensent Digital UV flatbed printing on glass is the best and easy way to print on glass,ceramic and lots of flat materials.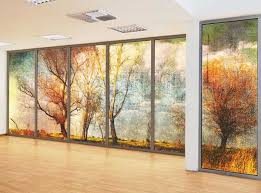 Tags: glass printing, print on glass