Comparing Epson DX5 and Ricoh Gen5 printheads
Getting the right printer head can be critical to reliable, cost effective and high-quality printing. For several years, the Epson DX5 printhead has been the most commonly used type on the market, but with other heads being introduced is that still the case? One of those is the Ricoh Gen 5 printhead, so how does that compare?
Specifications
The DX5 is distinguished by its 8 rows of nozzles, with each row having 180 nozzles, for a total of 1440 nozzles, matched to a 1440dpi resolution. The Ricoh Gen5 features just 4 rows of nozzles, but each row has 320 nozzles for a total of 1280 nozzles. This is less than the DX5, however, as the Gen5 head is around 20% smaller, the dpi resolution is very similar between the two.
The smallest drop from the DX5 is 5pl, however for the Ricoh it's a slightly larger 7pl, which could make a difference in very fine work. The Ricoh is designed to give 100 billion actuations per nozzle, and this shows where the design is focused, and that is longevity.
Performance
One area of difference is the number of channels these heads support, with 8 rows, the DX5 supports 8 separate channels, which could be used for 8 different colors, however the Ricoh Gen5 can only use a maximum of 4 channels and 4 colors due to its 4-row construction choice.
With a jetting frequency of 60 kHz, the Ricoh is much faster than the 8 kHz of the Epson head, and while it is slightly smaller and has less nozzles, it is the faster of the two, however the speed difference is not as noticeable as with some other comparisons.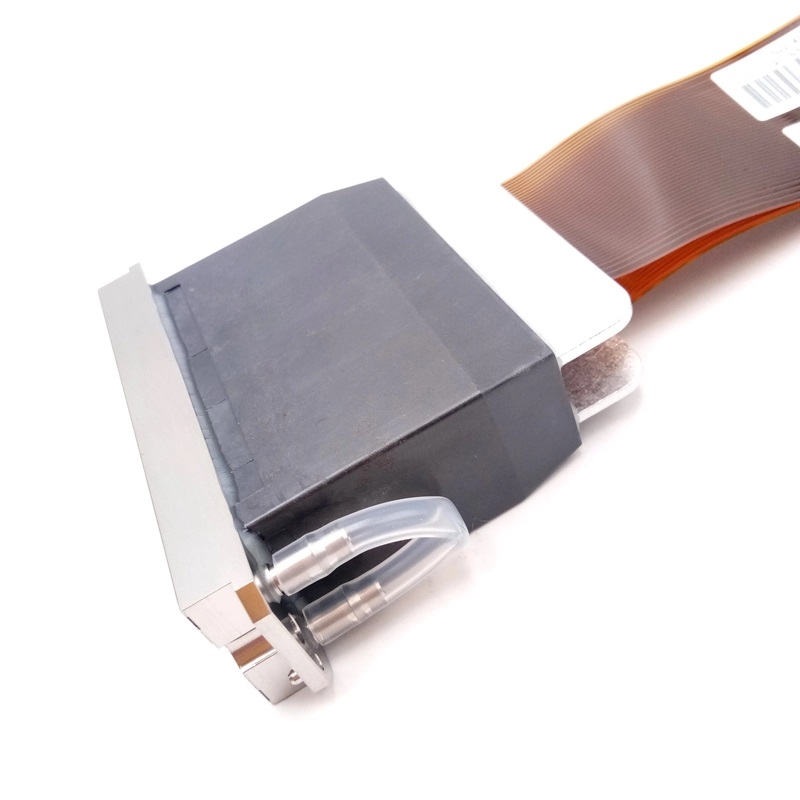 While on the surface they seem quite evenly matched, the Ricoh does have one area where it has a significant advantage, and that is in longevity. Designed for 100 billion actuations per nozzle, the Gen5 is designed to last. Here it definitely shows a much better performance than the Epson, and because pricing between the two is very similar, will offer a less costly option over the longer term.
Advantages:
1. Hardly get clogged. It is a remarkable feature that the other printheads haven't achieve.
2. Industry-grade. Due to its constant temperature and circuit insulation system, Ricoh head printer can work in high load mode without having any issue.
3. Service life can reach up to five years if under good maintenance. Corrosion resistant.
4. Applicable to a variety of ink.
Disadvantages:
1. Higher price for printers equipped with Ricoh printhead, and expensive price for Ricoh printhead itself.
Advantages:
1. Much better price for printers equipped Epson printhead. It's a good news for starters who can't afford an expensive equipment at the very beginning. Also it is suitable for users who have not a lot UV printing jobs.
2. Cheap printhead cost. The latest Epson DX8 printhead can be as low as USD300 per piece. No more heartache when replacing a new printhead.
3. Highest resolution among all the major printheads in LFP market.
Disadvantages:
1. Low print speed. Normally, high resolution result in low speed.
2. Short printhead life span. It can generally be used for around 1 year, and sometimes shorter due to bad maintenance or low quality inks.
UV printers have options for Ricoh and Epson. Contact our sales expert for details.

For high volume applications, the Ricoh Gen5 is an obvious choice, although for those who really need more than 4 channels.

Tags: Epson printheads, Ricoh printheads